Gene Page: TUBB
Gene in Data Sources
| Gene set name | Method of gene set | Description | Info |
| --- | --- | --- | --- |
| CV:PGCnp | Genome-wide Association Study | GWAS | |
| DMG:Jaffe_2016 | Genome-wide DNA methylation analysis | This dataset includes 2,104 probes/CpGs associated with SZ patients (n=108) compared to 136 controls at Bonferroni-adjusted P < 0.05. | 4 |
| DMG:Wockner_2014 | Genome-wide DNA methylation analysis | This dataset includes 4641 differentially methylated probes corresponding to 2929 unique genes between schizophrenia patients (n=24) and controls (n=24). | 4 |
| GSMA_I | Genome scan meta-analysis | Psr: 0.033 | |
| Network | Shortest path distance of core genes in the Human protein-protein interaction network | Contribution to shortest path in PPI network: 0.2161 | |
Section I. Genetics and epigenetics annotation
Differentially methylated gene
| Probe | Chromosome | Position | Nearest gene | P (dis) | Beta (dis) | FDR (dis) | Study |
| --- | --- | --- | --- | --- | --- | --- | --- |
| cg25742745 | 6 | 30689865 | TUBB | 2.457E-4 | 0.337 | 0.037 | DMG:Wockner_2014 |
| cg00783730 | 6 | 30689216 | TUBB | 3.533E-4 | -0.161 | 0.042 | DMG:Wockner_2014 |
| cg12915947 | 6 | 30691623 | TUBB | 4.903E-4 | 0.161 | 0.047 | DMG:Wockner_2014 |
| cg26259575 | 6 | 30687946 | TUBB | 4.65E-9 | -0.011 | 2.7E-6 | DMG:Jaffe_2016 |
Section II. Transcriptome annotation
General gene expression (GTEx)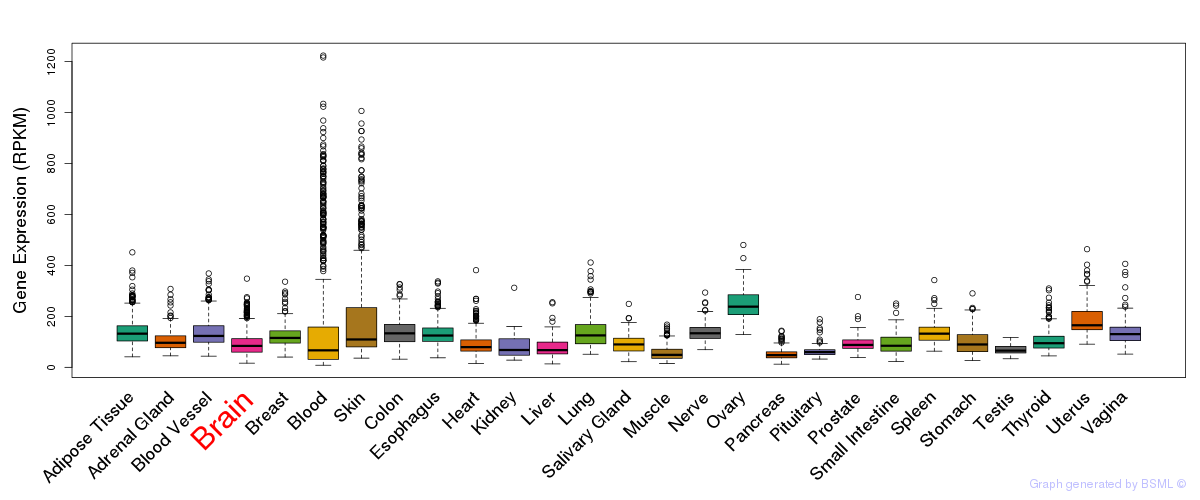 Gene expression during devlopment (BrainCloud)
Footnote:
A total of 269 time points ploted, with n=38 fetal samples (x=1:38). Each triangle represents one time point.
Gene expression of temporal and spatial changes (BrainSpan)
Footnote:
SC: sub-cortical regions; SM: sensory-motor regions; FC: frontal cortex; and TP: temporal-parietal cortex
ST1: fetal (13 - 26 postconception weeks), ST2: early infancy to late childhood (4 months to 11 years), and ST3: adolescence to adulthood (13 - 23 years)
The bar shown representes the lower 25% and upper 25% of the expression distribution.
No co-expressed genes in brain regions
Section III. Gene Ontology annotation
Section IV. Protein-protein interaction annotation
Interactors
Aliases B
Official full name B
Experimental
Source
PubMed ID
ARL8B
ARL10C | FLJ10702 | Gie1
ADP-ribosylation factor-like 8B
Affinity Capture-Western
BioGRID
15331635
ASCL2
ASH2 | HASH2 | MASH2 | bHLHa45
achaete-scute complex homolog 2 (Drosophila)
Affinity Capture-Western
BioGRID
12482968
MARK4
FLJ90097 | KIAA1860 | MARKL1 | Nbla00650
MAP/microtubule affinity-regulating kinase 4
Affinity Capture-MS
BioGRID
14594945
NCOA6
AIB3 | ANTP | ASC2 | HOX1.1 | HOXA7 | KIAA0181 | NRC | PRIP | RAP250 | TRBP
nuclear receptor coactivator 6
Affinity Capture-MS
Co-purification
BioGRID
12482968
NPHP1
FLJ97602 | JBTS4 | NPH1 | SLSN1
nephronophthisis 1 (juvenile)
Affinity Capture-Western
BioGRID
12872123
RAB8B
FLJ38125
RAB8B, member RAS oncogene family
Affinity Capture-Western
BioGRID
12639940
RASSF1
123F2 | NORE2A | RASSF1A | RDA32 | REH3P21
Ras association (RalGDS/AF-6) domain family member 1
Reconstituted Complex
BioGRID
14603253
RBBP5
RBQ3 | SWD1
retinoblastoma binding protein 5
Co-purification
BioGRID
12482968
SDC3
N-syndecan | SDCN | SYND3
syndecan 3
Reconstituted Complex
BioGRID
9553134
SIRT2
SIR2 | SIR2L | SIR2L2
sirtuin (silent mating type information regulation 2 homolog) 2 (S. cerevisiae)
Biochemical Activity
BioGRID
12620231
SMC3
BAM | BMH | CDLS3 | CSPG6 | HCAP | SMC3L1
structural maintenance of chromosomes 3
Affinity Capture-Western
BioGRID
11590136
SYT9
FLJ45896
synaptotagmin IX
Affinity Capture-Western
Reconstituted Complex
BioGRID
12966166
Section V. Pathway annotation
Section VI. microRNA annotation
miRNA family
Target position
miRNA ID
miRNA seq
UTR start
UTR end
Match method
miR-200bc/429
541
548
1A,m8
hsa-miR-200b
UAAUACUGCCUGGUAAUGAUGAC
hsa-miR-200c
UAAUACUGCCGGGUAAUGAUGG
hsa-miR-429
UAAUACUGUCUGGUAAAACCGU
SZ: miRNAs which differentially expressed in brain cortex of schizophrenia patients comparing with control samples using microarray. Click here to see the list of SZ related miRNAs.
Brain: miRNAs which are expressed in brain based on miRNA microarray expression studies. Click here to see the list of brain related miRNAs.