Gene Page: PCSK6
Gene in Data Sources
| Gene set name | Method of gene set | Description | Info |
| --- | --- | --- | --- |
| CV:PGCnp | Genome-wide Association Study | GWAS | |
| PMID:cooccur | High-throughput literature-search | Systematic search in PubMed for genes co-occurring with SCZ keywords. A total of 3027 genes were included. | |
| Literature | High-throughput literature-search | Co-occurance with Schizophrenia keywords: schizophrenia,schizotypy,schizophrenias,schizotypal | Click to show details |
| GO_Annotation | Mapping neuro-related keywords to Gene Ontology annotations | Hits with neuro-related keywords: 2 | |
Section I. Genetics and epigenetics annotation
Section II. Transcriptome annotation
General gene expression (GTEx)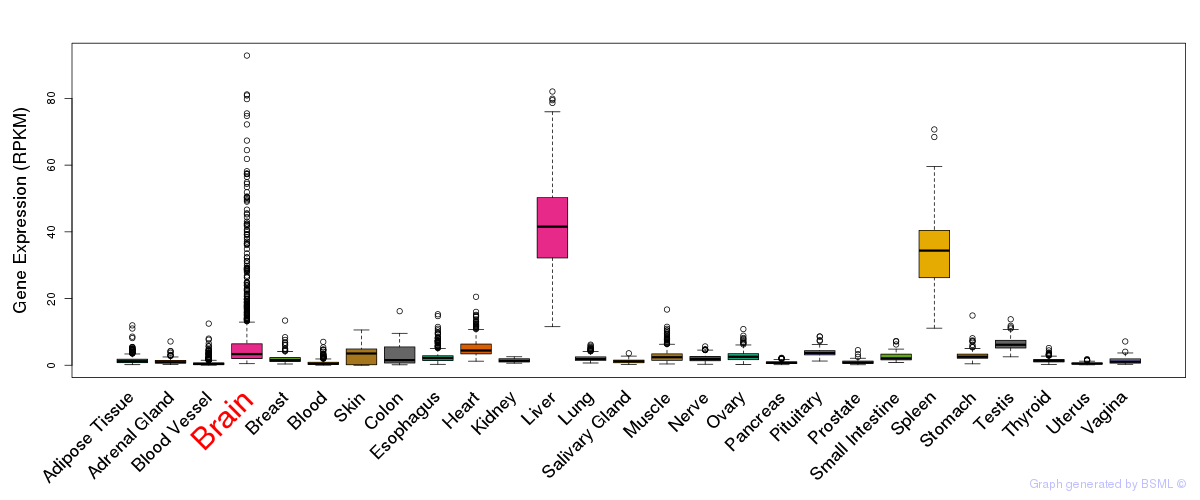 Gene expression during devlopment (BrainCloud)
Footnote:
A total of 269 time points ploted, with n=38 fetal samples (x=1:38). Each triangle represents one time point.
Gene expression of temporal and spatial changes (BrainSpan)
Footnote:
SC: sub-cortical regions; SM: sensory-motor regions; FC: frontal cortex; and TP: temporal-parietal cortex
ST1: fetal (13 - 26 postconception weeks), ST2: early infancy to late childhood (4 months to 11 years), and ST3: adolescence to adulthood (13 - 23 years)
The bar shown representes the lower 25% and upper 25% of the expression distribution.
No co-expressed genes in brain regions
Section III. Gene Ontology annotation
Section V. Pathway annotation
Section VI. microRNA annotation
miRNA family
Target position
miRNA ID
miRNA seq
UTR start
UTR end
Match method
miR-124.1
1135
1142
1A,m8
hsa-miR-124a
UUAAGGCACGCGGUGAAUGCCA
miR-124/506
1135
1141
1A
hsa-miR-506
UAAGGCACCCUUCUGAGUAGA
hsa-miR-124brain
UAAGGCACGCGGUGAAUGCC
miR-21
1019
1026
1A,m8
hsa-miR-21brain
UAGCUUAUCAGACUGAUGUUGA
hsa-miR-590
GAGCUUAUUCAUAAAAGUGCAG
miR-543
1288
1294
1A
hsa-miR-543
AAACAUUCGCGGUGCACUUCU
miR-544
327
333
1A
hsa-miR-544
AUUCUGCAUUUUUAGCAAGU
miR-9
321
327
m8
hsa-miR-9SZ
UCUUUGGUUAUCUAGCUGUAUGA
SZ: miRNAs which differentially expressed in brain cortex of schizophrenia patients comparing with control samples using microarray. Click here to see the list of SZ related miRNAs.
Brain: miRNAs which are expressed in brain based on miRNA microarray expression studies. Click here to see the list of brain related miRNAs.