Gene Page: SOS2
Gene in Data Sources
| Gene set name | Method of gene set | Description | Info |
| --- | --- | --- | --- |
| CV:PGCnp | Genome-wide Association Study | GWAS | |
| DNM:Gulsuner_2013 | Whole Exome Sequencing analysis | 155 DNMs identified by exome sequencing of quads or trios of schizophrenia individuals and their parents. | |
Section I. Genetics and epigenetics annotation
DNM table
| Gene | Chromosome | Position | Ref | Alt | Transcript | AA change | Mutation type | Sift | CG46 | Trait | Study |
| --- | --- | --- | --- | --- | --- | --- | --- | --- | --- | --- | --- |
| SOS2 | chr14 | 50585249 | G | A | NM_006939 | p.1271P>L | missense | | | Schizophrenia | DNM:Gulsuner_2013 |
Section II. Transcriptome annotation
General gene expression (GTEx)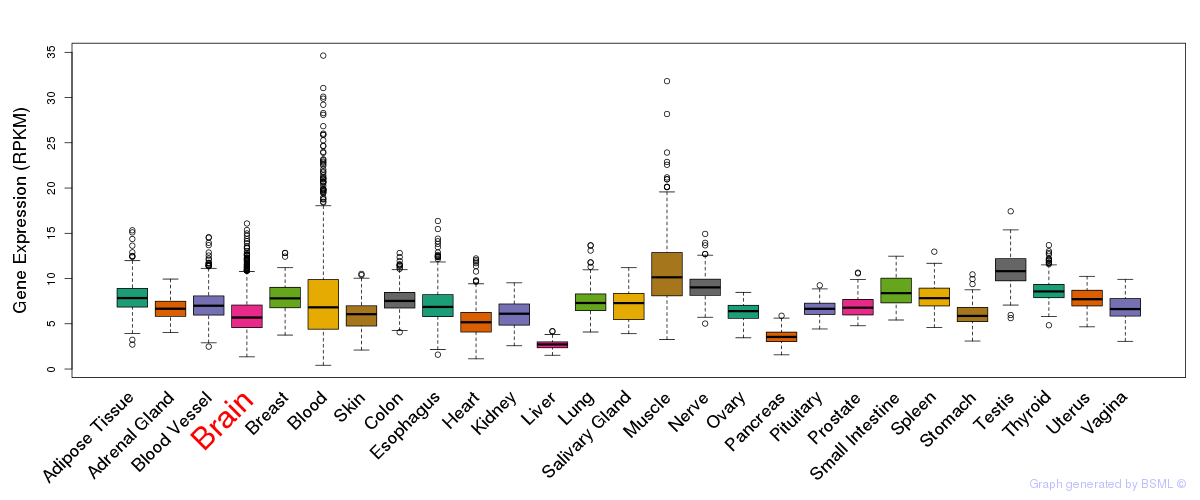 Gene expression during devlopment (BrainCloud)
Footnote:
A total of 269 time points ploted, with n=38 fetal samples (x=1:38). Each triangle represents one time point.
Gene expression of temporal and spatial changes (BrainSpan)
Footnote:
SC: sub-cortical regions; SM: sensory-motor regions; FC: frontal cortex; and TP: temporal-parietal cortex
ST1: fetal (13 - 26 postconception weeks), ST2: early infancy to late childhood (4 months to 11 years), and ST3: adolescence to adulthood (13 - 23 years)
The bar shown representes the lower 25% and upper 25% of the expression distribution.
Top co-expressed genes in brain regions
Top 10 positively co-expressed genes
Gene
Pearson's Correlation
Spearman's Correlation
CADPS
0.89
0.89
ATP2A2
0.87
0.89
MTMR7
0.87
0.85
DNAJC6
0.86
0.91
PALM2-AKAP2
0.85
0.84
SV2A
0.84
0.88
PRKAR1A
0.84
0.86
SNAP91
0.84
0.87
ADAM23
0.84
0.85
RAB6B
0.83
0.86
Top 10 negatively co-expressed genes
Gene
Pearson's Correlation
Spearman's Correlation
RAB34
-0.54
-0.63
C1orf61
-0.51
-0.64
GNG11
-0.50
-0.53
AP002478.3
-0.48
-0.54
C1orf54
-0.47
-0.54
AF347015.21
-0.47
-0.44
HIGD1B
-0.47
-0.48
DBI
-0.47
-0.56
ACSF2
-0.47
-0.51
AL138743.2
-0.46
-0.52
Section V. Pathway annotation