Gene Page: FZD5
Gene in Data Sources
| Gene set name | Method of gene set | Description | Info |
| --- | --- | --- | --- |
| CV:PGCnp | Genome-wide Association Study | GWAS | |
| DMG:Wockner_2014 | Genome-wide DNA methylation analysis | This dataset includes 4641 differentially methylated probes corresponding to 2929 unique genes between schizophrenia patients (n=24) and controls (n=24). | 2 |
| GSMA_IIA | Genome scan meta-analysis (All samples) | Psr: 0.00916 | |
| GSMA_IIE | Genome scan meta-analysis (European-ancestry samples) | Psr: 0.01016 | |
Section I. Genetics and epigenetics annotation
Differentially methylated gene
| Probe | Chromosome | Position | Nearest gene | P (dis) | Beta (dis) | FDR (dis) | Study |
| --- | --- | --- | --- | --- | --- | --- | --- |
| cg01201797 | 2 | 208635605 | FZD5 | 1.928E-4 | 0.416 | 0.035 | DMG:Wockner_2014 |
| cg05365735 | 2 | 208635637 | FZD5 | 3.122E-4 | 0.449 | 0.04 | DMG:Wockner_2014 |
eQTL annotation
| SNP ID | Chromosome | Position | eGene | Gene Entrez ID | pvalue | qvalue | TSS distance | eQTL type |
| --- | --- | --- | --- | --- | --- | --- | --- | --- |
| rs10994209 | chr10 | 61877705 | FZD5 | 7855 | | 0.05 | | trans |
Section II. Transcriptome annotation
General gene expression (GTEx)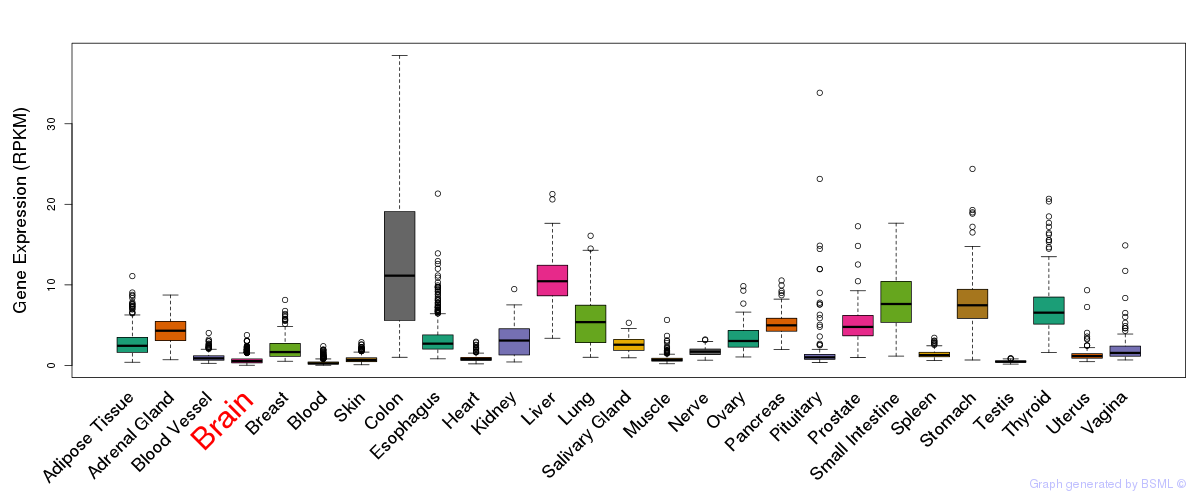 Gene expression during devlopment (BrainCloud)
Footnote:
A total of 269 time points ploted, with n=38 fetal samples (x=1:38). Each triangle represents one time point.
Gene expression of temporal and spatial changes (BrainSpan)
Footnote:
SC: sub-cortical regions; SM: sensory-motor regions; FC: frontal cortex; and TP: temporal-parietal cortex
ST1: fetal (13 - 26 postconception weeks), ST2: early infancy to late childhood (4 months to 11 years), and ST3: adolescence to adulthood (13 - 23 years)
The bar shown representes the lower 25% and upper 25% of the expression distribution.
No co-expressed genes in brain regions
Section III. Gene Ontology annotation
Section V. Pathway annotation
Section VI. microRNA annotation
miRNA family
Target position
miRNA ID
miRNA seq
UTR start
UTR end
Match method
miR-124.1
2998
3004
m8
hsa-miR-124a
UUAAGGCACGCGGUGAAUGCCA
miR-124/506
2997
3004
1A,m8
hsa-miR-506
UAAGGCACCCUUCUGAGUAGA
hsa-miR-124brain
UAAGGCACGCGGUGAAUGCC
miR-140
1150
1157
1A,m8
hsa-miR-140brain
AGUGGUUUUACCCUAUGGUAG
miR-149
1268
1274
1A
hsa-miR-149brain
UCUGGCUCCGUGUCUUCACUCC
miR-155
4355
4361
1A
hsa-miR-155
UUAAUGCUAAUCGUGAUAGGGG
miR-191
77
83
m8
hsa-miR-191brain
CAACGGAAUCCCAAAAGCAGCU
miR-194
3738
3744
1A
hsa-miR-194
UGUAACAGCAACUCCAUGUGGA
miR-219
4015
4022
1A,m8
hsa-miR-219brain
UGAUUGUCCAAACGCAAUUCU
miR-224
3820
3826
m8
hsa-miR-224
CAAGUCACUAGUGGUUCCGUUUA
miR-23
426
433
1A,m8
hsa-miR-23abrain
AUCACAUUGCCAGGGAUUUCC
hsa-miR-23bbrain
AUCACAUUGCCAGGGAUUACC
miR-24
3859
3866
1A,m8
hsa-miR-24SZ
UGGCUCAGUUCAGCAGGAACAG
miR-323
426
432
1A
hsa-miR-323brain
GCACAUUACACGGUCGACCUCU
miR-326
3276
3282
m8
hsa-miR-326
CCUCUGGGCCCUUCCUCCAG
hsa-miR-326
CCUCUGGGCCCUUCCUCCAG
miR-330
3387
3393
1A
hsa-miR-330brain
GCAAAGCACACGGCCUGCAGAGA
miR-342
3455
3461
m8
hsa-miR-342brain
UCUCACACAGAAAUCGCACCCGUC
miR-369-3p
4226
4233
1A,m8
hsa-miR-369-3p
AAUAAUACAUGGUUGAUCUUU
miR-374
4227
4233
m8
hsa-miR-374
UUAUAAUACAACCUGAUAAGUG
miR-375
1209
1215
1A
hsa-miR-375
UUUGUUCGUUCGGCUCGCGUGA
miR-378*
3514
3521
1A,m8
hsa-miR-422b
CUGGACUUGGAGUCAGAAGGCC
hsa-miR-422a
CUGGACUUAGGGUCAGAAGGCC
miR-381
3296
3302
1A
hsa-miR-381
UAUACAAGGGCAAGCUCUCUGU
miR-384
3283
3290
1A,m8
hsa-miR-384
AUUCCUAGAAAUUGUUCAUA
miR-421
3868
3875
1A,m8
hsa-miR-421
GGCCUCAUUAAAUGUUUGUUG
miR-455
3872
3879
1A,m8
hsa-miR-455
UAUGUGCCUUUGGACUACAUCG
miR-99/100
3831
3837
m8
hsa-miR-99abrain
AACCCGUAGAUCCGAUCUUGUG
hsa-miR-100brain
AACCCGUAGAUCCGAACUUGUG
hsa-miR-99bbrain
CACCCGUAGAACCGACCUUGCG
SZ: miRNAs which differentially expressed in brain cortex of schizophrenia patients comparing with control samples using microarray. Click here to see the list of SZ related miRNAs.
Brain: miRNAs which are expressed in brain based on miRNA microarray expression studies. Click here to see the list of brain related miRNAs.