Gene Page: KLF5
Gene in Data Sources
| Gene set name | Method of gene set | Description | Info |
| --- | --- | --- | --- |
| CV:PGCnp | Genome-wide Association Study | GWAS | |
| PMID:cooccur | High-throughput literature-search | Systematic search in PubMed for genes co-occurring with SCZ keywords. A total of 3027 genes were included. | |
| Association | A combined odds ratio method (Sun et al. 2008), association studies | 1 | Link to SZGene |
| Literature | High-throughput literature-search | Co-occurance with Schizophrenia keywords: schizophrenia,schizophrenias | Click to show details |
Section I. Genetics and epigenetics annotation
eQTL annotation
| SNP ID | Chromosome | Position | eGene | Gene Entrez ID | pvalue | qvalue | TSS distance | eQTL type |
| --- | --- | --- | --- | --- | --- | --- | --- | --- |
| rs17131759 | chr1 | 86495557 | KLF5 | 688 | | 0.04 | | trans |
| rs17131472 | chr1 | 91962966 | KLF5 | 688 | | 0.07 | | trans |
| rs6710894 | chr2 | 66876700 | KLF5 | 688 | | 0.04 | | trans |
| rs17046675 | chr2 | 117922028 | KLF5 | 688 | | 0.16 | | trans |
| rs1691463 | chr3 | 84914366 | KLF5 | 688 | | 0.17 | | trans |
| rs2922180 | chr3 | 125280472 | KLF5 | 688 | | 0.05 | | trans |
| rs2976809 | chr3 | 125451738 | KLF5 | 688 | | 0.04 | | trans |
| rs16889842 | chr4 | 9872012 | KLF5 | 688 | | 0.01 | | trans |
| snp_a-1976228 | | 0 | KLF5 | 688 | | 0.19 | | trans |
| rs313946 | chr4 | 113975904 | KLF5 | 688 | | 0.03 | | trans |
| rs10050805 | chr5 | 30805352 | KLF5 | 688 | | 0.09 | | trans |
| rs837115 | chr5 | 40736290 | KLF5 | 688 | | 0.18 | | trans |
| rs17056435 | chr5 | 158453782 | KLF5 | 688 | | 0.08 | | trans |
| rs6920042 | chr6 | 67907570 | KLF5 | 688 | | 0.04 | | trans |
| rs6939897 | chr6 | 67913123 | KLF5 | 688 | | 0.12 | | trans |
| rs6455226 | chr6 | 67930295 | KLF5 | 688 | | 3.17E-4 | | trans |
| rs9451867 | chr6 | 92659609 | KLF5 | 688 | | 0.07 | | trans |
| rs2398707 | chr7 | 2113428 | KLF5 | 688 | | 0.02 | | trans |
| rs3778948 | chr7 | 2123290 | KLF5 | 688 | | 0.1 | | trans |
| rs3778951 | chr7 | 2125319 | KLF5 | 688 | | 0.02 | | trans |
| rs3778957 | chr7 | 2127710 | KLF5 | 688 | | 0.02 | | trans |
| rs3778958 | chr7 | 2127794 | KLF5 | 688 | | 0.1 | | trans |
| rs3778968 | chr7 | 2139903 | KLF5 | 688 | | 0.1 | | trans |
| rs3823550 | chr7 | 137346101 | KLF5 | 688 | | 0.09 | | trans |
| rs7823144 | chr8 | 38028194 | KLF5 | 688 | | 0.16 | | trans |
| rs11783167 | chr8 | 129102799 | KLF5 | 688 | | 0.18 | | trans |
| rs2253777 | chr9 | 93467893 | KLF5 | 688 | | 0.03 | | trans |
| rs998410 | chr9 | 117622673 | KLF5 | 688 | | 0.03 | | trans |
| rs10747972 | | 0 | KLF5 | 688 | | 0.14 | | trans |
| rs11112163 | chr12 | 105072508 | KLF5 | 688 | | 0.01 | | trans |
| rs1498763 | chr12 | 115975789 | KLF5 | 688 | | 0.19 | | trans |
| rs4882759 | chr12 | 128909713 | KLF5 | 688 | | 0.2 | | trans |
| rs9551590 | chr13 | 29589464 | KLF5 | 688 | | 0.03 | | trans |
| rs10142086 | chr14 | 35135892 | KLF5 | 688 | | 0.03 | | trans |
| rs1951867 | chr14 | 54407191 | KLF5 | 688 | | 0.17 | | trans |
| rs2093759 | chr14 | 97171024 | KLF5 | 688 | | 0.19 | | trans |
| rs17244419 | chr14 | 97171074 | KLF5 | 688 | | 0.02 | | trans |
| rs7177212 | chr15 | 34425413 | KLF5 | 688 | | 0.1 | | trans |
| rs17841422 | chr17 | 20969134 | KLF5 | 688 | | 0.19 | | trans |
| rs11873703 | chr18 | 61448702 | KLF5 | 688 | | 0.01 | | trans |
| rs6017989 | chr20 | 45329846 | KLF5 | 688 | | 0.2 | | trans |
| rs6095741 | chr20 | 48666589 | KLF5 | 688 | | 0.01 | | trans |
Section II. Transcriptome annotation
General gene expression (GTEx)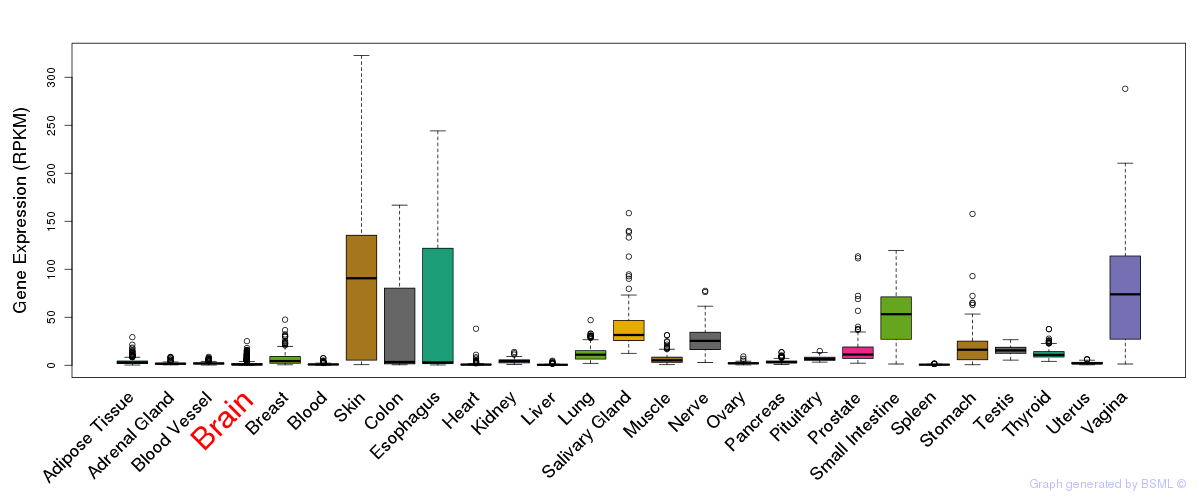 Gene expression during devlopment (BrainCloud)
Footnote:
A total of 269 time points ploted, with n=38 fetal samples (x=1:38). Each triangle represents one time point.
Gene expression of temporal and spatial changes (BrainSpan)
Footnote:
SC: sub-cortical regions; SM: sensory-motor regions; FC: frontal cortex; and TP: temporal-parietal cortex
ST1: fetal (13 - 26 postconception weeks), ST2: early infancy to late childhood (4 months to 11 years), and ST3: adolescence to adulthood (13 - 23 years)
The bar shown representes the lower 25% and upper 25% of the expression distribution.
No co-expressed genes in brain regions
Section III. Gene Ontology annotation
Section IV. Protein-protein interaction annotation
Interactors
Aliases B
Official full name B
Experimental
Source
PubMed ID
CREBBP
CBP | KAT3A | RSTS
CREB binding protein
-
HPRD,BioGRID
12682370
EP300
KAT3B | p300
E1A binding protein p300
Affinity Capture-Western
BioGRID
14612398
GTF2B
TF2B | TFIIB
general transcription factor IIB
Reconstituted Complex
BioGRID
9089417
GTF2E2
FE | TF2E2 | TFIIE-B
general transcription factor IIE, polypeptide 2, beta 34kDa
-
HPRD
9089417
GTF2F1
BTF4 | RAP74 | TF2F1 | TFIIF
general transcription factor IIF, polypeptide 1, 74kDa
Reconstituted Complex
BioGRID
9089417
GTF2F2
BTF4 | RAP30 | TF2F2 | TFIIF
general transcription factor IIF, polypeptide 2, 30kDa
-
HPRD
9089417
NFKB1
DKFZp686C01211 | EBP-1 | KBF1 | MGC54151 | NF-kappa-B | NFKB-p105 | NFKB-p50 | p105
nuclear factor of kappa light polypeptide gene enhancer in B-cells 1
-
HPRD,BioGRID
14573617
PRKCA
AAG6 | MGC129900 | MGC129901 | PKC-alpha | PKCA | PRKACA
protein kinase C, alpha
Biochemical Activity
BioGRID
12682370
RARA
NR1B1 | RAR
retinoic acid receptor, alpha
in vitro
in vivo
BioGRID
12101409
SET
2PP2A | I2PP2A | IGAAD | IPP2A2 | PHAPII | TAF-I | TAF-IBETA
SET nuclear oncogene
Affinity Capture-MS
Affinity Capture-Western
Reconstituted Complex
BioGRID
14612398
TBP
GTF2D | GTF2D1 | MGC117320 | MGC126054 | MGC126055 | SCA17 | TFIID
TATA box binding protein
Reconstituted Complex
BioGRID
9089417
Section V. Pathway annotation
Section VI. microRNA annotation
SZ: miRNAs which differentially expressed in brain cortex of schizophrenia patients comparing with control samples using microarray. Click here to see the list of SZ related miRNAs.
Brain: miRNAs which are expressed in brain based on miRNA microarray expression studies. Click here to see the list of brain related miRNAs.