Gene Page: CRY1
Gene in Data Sources
| Gene set name | Method of gene set | Description | Info |
| --- | --- | --- | --- |
| CV:PGCnp | Genome-wide Association Study | GWAS | |
| PMID:cooccur | High-throughput literature-search | Systematic search in PubMed for genes co-occurring with SCZ keywords. A total of 3027 genes were included. | |
| Literature | High-throughput literature-search | Co-occurance with Schizophrenia keywords: schizophrenia,schizophrenias | Click to show details |
Section I. Genetics and epigenetics annotation
eQTL annotation
| SNP ID | Chromosome | Position | eGene | Gene Entrez ID | pvalue | qvalue | TSS distance | eQTL type |
| --- | --- | --- | --- | --- | --- | --- | --- | --- |
| rs11924592 | chr3 | 146371577 | CRY1 | 1407 | | 0.09 | | trans |
Section II. Transcriptome annotation
General gene expression (GTEx)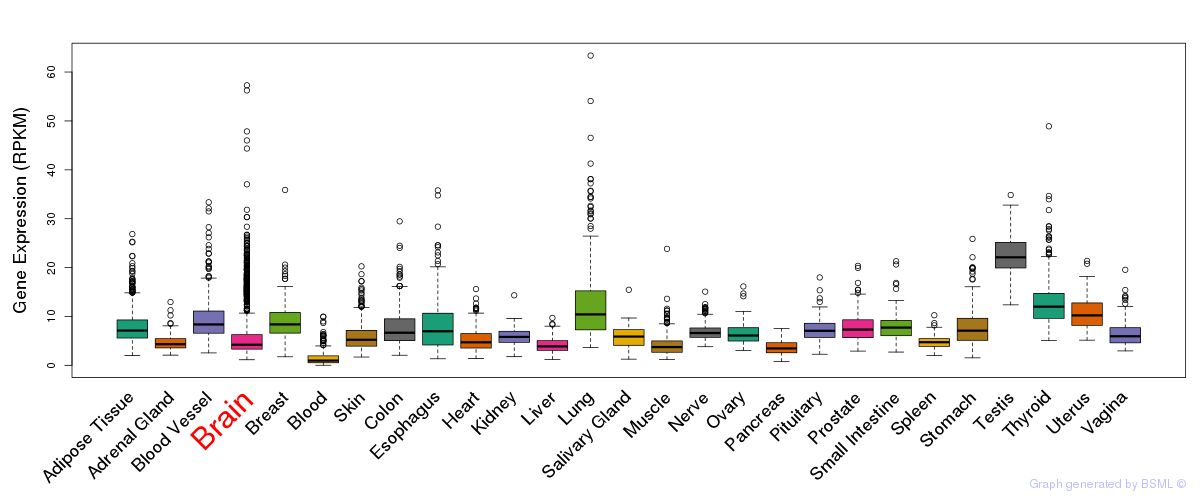 Gene expression during devlopment (BrainCloud)
Footnote:
A total of 269 time points ploted, with n=38 fetal samples (x=1:38). Each triangle represents one time point.
Gene expression of temporal and spatial changes (BrainSpan)
Footnote:
SC: sub-cortical regions; SM: sensory-motor regions; FC: frontal cortex; and TP: temporal-parietal cortex
ST1: fetal (13 - 26 postconception weeks), ST2: early infancy to late childhood (4 months to 11 years), and ST3: adolescence to adulthood (13 - 23 years)
The bar shown representes the lower 25% and upper 25% of the expression distribution.
No co-expressed genes in brain regions
Section III. Gene Ontology annotation
Section IV. Protein-protein interaction annotation
Interactors
Aliases B
Official full name B
Experimental
Source
PubMed ID
ARNTL
BMAL1 | BMAL1c | JAP3 | MGC47515 | MOP3 | PASD3 | TIC | bHLHe5
aryl hydrocarbon receptor nuclear translocator-like
-
HPRD,BioGRID
10531061
CBLB
DKFZp686J10223 | DKFZp779A0729 | DKFZp779F1443 | FLJ36865 | FLJ41152 | Nbla00127 | RNF56
Cas-Br-M (murine) ecotropic retroviral transforming sequence b
Two-hybrid
BioGRID
16189514
CRY1
PHLL1
cryptochrome 1 (photolyase-like)
Biochemical Activity
BioGRID
17073458
CSNK1E
HCKIE | MGC10398
casein kinase 1, epsilon
-
HPRD
11875063
KRTAP4-12
KAP4.12 | KRTAP4.12
keratin associated protein 4-12
Two-hybrid
BioGRID
16189514
MDFI
I-MF | I-mfa
MyoD family inhibitor
Two-hybrid
BioGRID
16189514
PER1
MGC88021 | PER | RIGUI | hPER
period homolog 1 (Drosophila)
-
HPRD,BioGRID
10531061
PER2
FASPS | KIAA0347
period homolog 2 (Drosophila)
-
HPRD
10428031 |10531061

PER2
FASPS | KIAA0347
period homolog 2 (Drosophila)
Affinity Capture-Western
Two-hybrid
BioGRID
10531061 |11533252

PER3
GIG13
period homolog 3 (Drosophila)
-
HPRD
10428031
PLSCR1
MMTRA1B
phospholipid scramblase 1
Two-hybrid
BioGRID
16189514
TIMELESS
FLJ12640 | FLJ20714 | TIM | TIM1 | hTIM
timeless homolog (Drosophila)
-
HPRD
10428031
TRAF2
MGC:45012 | TRAP | TRAP3
TNF receptor-associated factor 2
Two-hybrid
BioGRID
16189514
Section V. Pathway annotation
Section VI. microRNA annotation
miRNA family
Target position
miRNA ID
miRNA seq
UTR start
UTR end
Match method
miR-361
312
318
m8
hsa-miR-361brain
UUAUCAGAAUCUCCAGGGGUAC
miR-381
184
190
1A
hsa-miR-381
UAUACAAGGGCAAGCUCUCUGU
miR-448
624
631
1A,m8
hsa-miR-448
UUGCAUAUGUAGGAUGUCCCAU
miR-496
219
225
1A
hsa-miR-496
AUUACAUGGCCAAUCUC
SZ: miRNAs which differentially expressed in brain cortex of schizophrenia patients comparing with control samples using microarray. Click here to see the list of SZ related miRNAs.
Brain: miRNAs which are expressed in brain based on miRNA microarray expression studies. Click here to see the list of brain related miRNAs.