Gene Page: IPO5
Gene in Data Sources
| Gene set name | Method of gene set | Description | Info |
| --- | --- | --- | --- |
| CV:PGCnp | Genome-wide Association Study | GWAS | |
| DMG:Jaffe_2016 | Genome-wide DNA methylation analysis | This dataset includes 2,104 probes/CpGs associated with SZ patients (n=108) compared to 136 controls at Bonferroni-adjusted P < 0.05. | 1 |
| PMID:cooccur | High-throughput literature-search | Systematic search in PubMed for genes co-occurring with SCZ keywords. A total of 3027 genes were included. | |
| Association | A combined odds ratio method (Sun et al. 2008), association studies | 2 | Link to SZGene |
| Expression | Meta-analysis of gene expression | P value: 1.509 | |
| Literature | High-throughput literature-search | Co-occurance with Schizophrenia keywords: schizophrenia,schizophrenias | Click to show details |
| Network | Shortest path distance of core genes in the Human protein-protein interaction network | Contribution to shortest path in PPI network: 0.2023 | |
Section I. Genetics and epigenetics annotation
Differentially methylated gene
| Probe | Chromosome | Position | Nearest gene | P (dis) | Beta (dis) | FDR (dis) | Study |
| --- | --- | --- | --- | --- | --- | --- | --- |
| cg05126147 | 13 | 98628060 | IPO5 | 3.42E-10 | -0.008 | 7.22E-7 | DMG:Jaffe_2016 |
Section II. Transcriptome annotation
General gene expression (GTEx)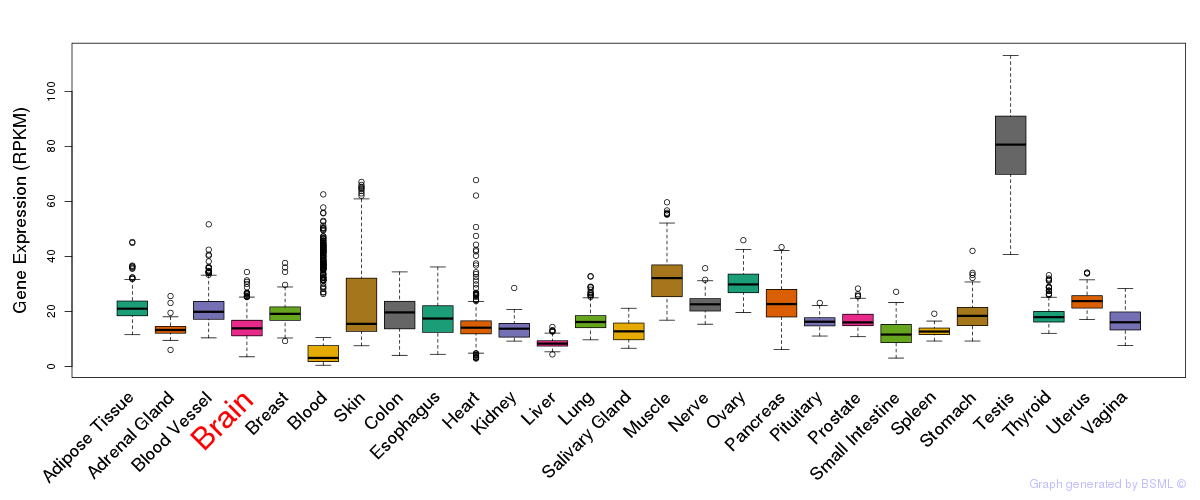 Gene expression during devlopment (BrainCloud)
Footnote:
A total of 269 time points ploted, with n=38 fetal samples (x=1:38). Each triangle represents one time point.
Gene expression of temporal and spatial changes (BrainSpan)
Footnote:
SC: sub-cortical regions; SM: sensory-motor regions; FC: frontal cortex; and TP: temporal-parietal cortex
ST1: fetal (13 - 26 postconception weeks), ST2: early infancy to late childhood (4 months to 11 years), and ST3: adolescence to adulthood (13 - 23 years)
The bar shown representes the lower 25% and upper 25% of the expression distribution.
No co-expressed genes in brain regions
Section III. Gene Ontology annotation
Section IV. Protein-protein interaction annotation
Interactors
Aliases B
Official full name B
Experimental
Source
PubMed ID
H1F0
H10 | H1FV | MGC5241
H1 histone family, member 0
in vitro
BioGRID
10228156
NUP153
HNUP153 | N153
nucleoporin 153kDa
-
HPRD,BioGRID
9114010
NUP214
CAIN | CAN | D9S46E | MGC104525 | N214
nucleoporin 214kDa
-
HPRD,BioGRID
9114010
NUP98
ADIR2 | NUP196 | NUP96
nucleoporin 98kDa
-
HPRD
9114010
RAG2
RAG-2
recombination activating gene 2
-
HPRD
12861017
RAN
ARA24 | Gsp1 | TC4
RAN, member RAS oncogene family
-
HPRD,BioGRID
9114010
RANBP2
NUP358 | TRP1 | TRP2
RAN binding protein 2
-
HPRD
9114010
RPL23A
FLJ27455 | MDA20
ribosomal protein L23a
Affinity Capture-Western
in vitro
BioGRID
9687515 |11682607

RPL5
MGC117339 | MSTP030
ribosomal protein L5
-
HPRD,BioGRID
9687515
RPS7
-
ribosomal protein S7
-
HPRD,BioGRID
9687515
SRP19
-
signal recognition particle 19kDa
Affinity Capture-Western
Reconstituted Complex
BioGRID
11682607
Section V. Pathway annotation
Section VI. microRNA annotation
SZ: miRNAs which differentially expressed in brain cortex of schizophrenia patients comparing with control samples using microarray. Click here to see the list of SZ related miRNAs.
Brain: miRNAs which are expressed in brain based on miRNA microarray expression studies. Click here to see the list of brain related miRNAs.