Gene Page: C16orf45
Gene in Data Sources
| Gene set name | Method of gene set | Description | Info |
| --- | --- | --- | --- |
| CNV:YES | Copy number variation studies | Manual curation | |
| CV:PGCnp | Genome-wide Association Study | GWAS | |
| GSMA_IIE | Genome scan meta-analysis (European-ancestry samples) | Psr: 0.01775 | |
Section I. Genetics and epigenetics annotation
Section II. Transcriptome annotation
General gene expression (GTEx)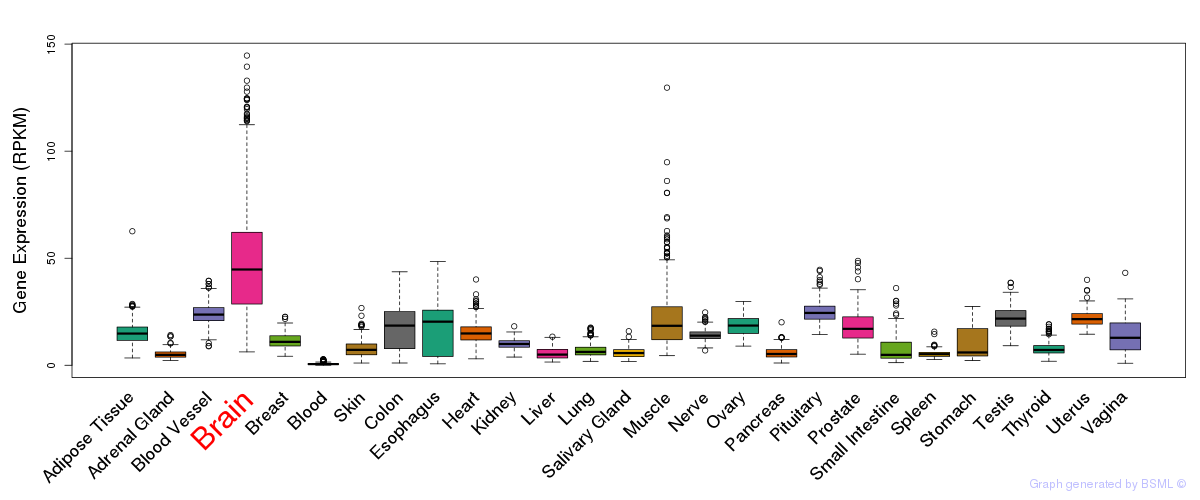 Gene expression during devlopment (BrainCloud)
Footnote:
A total of 269 time points ploted, with n=38 fetal samples (x=1:38). Each triangle represents one time point.
Gene expression of temporal and spatial changes (BrainSpan)
Footnote:
SC: sub-cortical regions; SM: sensory-motor regions; FC: frontal cortex; and TP: temporal-parietal cortex
ST1: fetal (13 - 26 postconception weeks), ST2: early infancy to late childhood (4 months to 11 years), and ST3: adolescence to adulthood (13 - 23 years)
The bar shown representes the lower 25% and upper 25% of the expression distribution.
No co-expressed genes in brain regions
Section III. Gene Ontology annotation
| Molecular function | GO term | Evidence | Neuro keywords | PubMed ID |
| --- | --- | --- | --- | --- |
| GO:0005515 | protein binding | IEA | | - |
Section V. Pathway annotation
Section VI. microRNA annotation
miRNA family
Target position
miRNA ID
miRNA seq
UTR start
UTR end
Match method
miR-203.1
63
69
1A
hsa-miR-203
UGAAAUGUUUAGGACCACUAG
miR-221/222
174
180
1A
hsa-miR-221brain
AGCUACAUUGUCUGCUGGGUUUC
hsa-miR-222brain
AGCUACAUCUGGCUACUGGGUCUC
miR-329
360
366
1A
hsa-miR-329brain
AACACACCUGGUUAACCUCUUU
miR-493-5p
983
989
m8
hsa-miR-493-5p
UUGUACAUGGUAGGCUUUCAUU
SZ: miRNAs which differentially expressed in brain cortex of schizophrenia patients comparing with control samples using microarray. Click here to see the list of SZ related miRNAs.
Brain: miRNAs which are expressed in brain based on miRNA microarray expression studies. Click here to see the list of brain related miRNAs.