Gene Page: DDX5
Gene in Data Sources
| Gene set name | Method of gene set | Description | Info |
| --- | --- | --- | --- |
| CV:PGCnp | Genome-wide Association Study | GWAS | |
| DMG:Wockner_2014 | Genome-wide DNA methylation analysis | This dataset includes 4641 differentially methylated probes corresponding to 2929 unique genes between schizophrenia patients (n=24) and controls (n=24). | 1 |
| Network | Shortest path distance of core genes in the Human protein-protein interaction network | Contribution to shortest path in PPI network: 0.0876 | |
Section I. Genetics and epigenetics annotation
Differentially methylated gene
| Probe | Chromosome | Position | Nearest gene | P (dis) | Beta (dis) | FDR (dis) | Study |
| --- | --- | --- | --- | --- | --- | --- | --- |
| cg23225508 | 17 | 62500377 | DDX5 | 1.56E-5 | 0.618 | 0.015 | DMG:Wockner_2014 |
eQTL annotation
| SNP ID | Chromosome | Position | eGene | Gene Entrez ID | pvalue | qvalue | TSS distance | eQTL type |
| --- | --- | --- | --- | --- | --- | --- | --- | --- |
| rs3217906 | chr12 | 4405803 | DDX5 | 1655 | | 0.17 | | trans |
| rs3217933 | chr12 | 4412999 | DDX5 | 1655 | | 0.19 | | trans |
Section II. Transcriptome annotation
General gene expression (GTEx)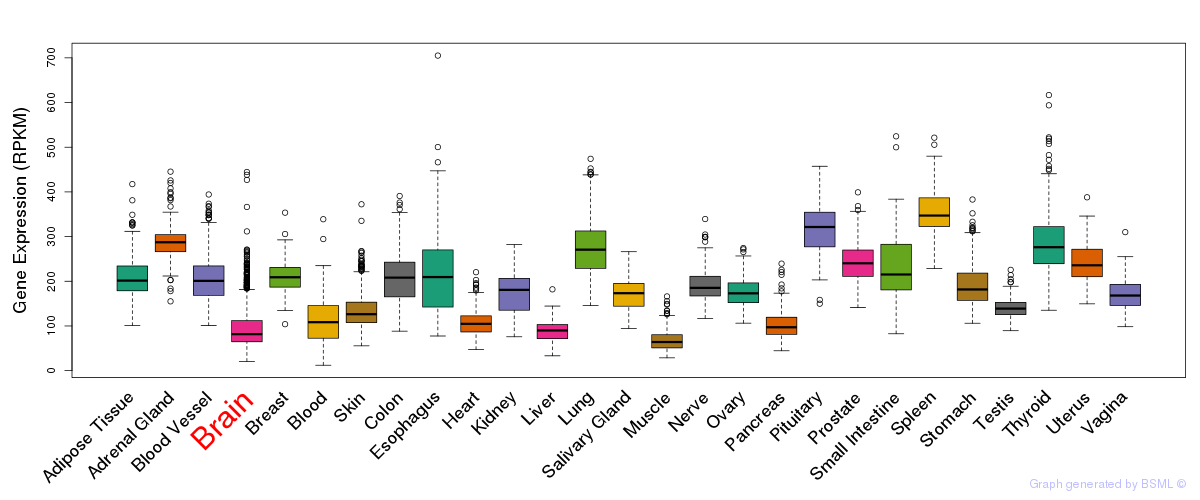 Gene expression during devlopment (BrainCloud)
Footnote:
A total of 269 time points ploted, with n=38 fetal samples (x=1:38). Each triangle represents one time point.
Gene expression of temporal and spatial changes (BrainSpan)
Footnote:
SC: sub-cortical regions; SM: sensory-motor regions; FC: frontal cortex; and TP: temporal-parietal cortex
ST1: fetal (13 - 26 postconception weeks), ST2: early infancy to late childhood (4 months to 11 years), and ST3: adolescence to adulthood (13 - 23 years)
The bar shown representes the lower 25% and upper 25% of the expression distribution.
No co-expressed genes in brain regions
Section III. Gene Ontology annotation
Section IV. Protein-protein interaction annotation
Interactors
Aliases B
Official full name B
Experimental
Source
PubMed ID
AKAP8
AKAP95 | DKFZp586B1222
A kinase (PRKA) anchor protein 8
-
HPRD,BioGRID
11279182
CDKN1A
CAP20 | CDKN1 | CIP1 | MDA-6 | P21 | SDI1 | WAF1 | p21CIP1
cyclin-dependent kinase inhibitor 1A (p21, Cip1)
p68 interacts with the p21 promoter.
BIND
15660129
CREBBP
CBP | KAT3A | RSTS
CREB binding protein
-
HPRD,BioGRID
12527917
DDX17
DKFZp761H2016 | P72 | RH70
DEAD (Asp-Glu-Ala-Asp) box polypeptide 17
p72 interacts with p68.
BIND
12595555
EP300
KAT3B | p300
E1A binding protein p300
Affinity Capture-Western
BioGRID
12527917
ESR1
DKFZp686N23123 | ER | ESR | ESRA | Era | NR3A1
estrogen receptor 1
Affinity Capture-Western
Two-hybrid
BioGRID
10409727
ESR1
DKFZp686N23123 | ER | ESR | ESRA | Era | NR3A1
estrogen receptor 1
ESR1 (ER-alpha) interacts with DDX5 (p68). This interaction was modeled on a demonstrated interaction between ESR1 from an unspecified species and DDX5 from an unspecified species.
BIND
12738788
FBL
FIB | FLRN | RNU3IP1
fibrillarin
-
HPRD,BioGRID
10837141
HDAC1
DKFZp686H12203 | GON-10 | HD1 | RPD3 | RPD3L1
histone deacetylase 1
Affinity Capture-Western
BioGRID
15298701
MAP3K7
TAK1 | TGF1a
mitogen-activated protein kinase kinase kinase 7
-
HPRD
14743216
STK24
MST-3 | MST3 | MST3B | STE20 | STK3
serine/threonine kinase 24 (STE20 homolog, yeast)
Affinity Capture-MS
BioGRID
17353931
TP53
FLJ92943 | LFS1 | TRP53 | p53
tumor protein p53
p68 interacts with p53.
BIND
15660129
Section V. Pathway annotation
Section VI. microRNA annotation
SZ: miRNAs which differentially expressed in brain cortex of schizophrenia patients comparing with control samples using microarray. Click here to see the list of SZ related miRNAs.
Brain: miRNAs which are expressed in brain based on miRNA microarray expression studies. Click here to see the list of brain related miRNAs.