Gene Page: TRIB3
Gene in Data Sources
| Gene set name | Method of gene set | Description | Info |
| --- | --- | --- | --- |
| CV:PGCnp | Genome-wide Association Study | GWAS | |
| PMID:cooccur | High-throughput literature-search | Systematic search in PubMed for genes co-occurring with SCZ keywords. A total of 3027 genes were included. | |
| Literature | High-throughput literature-search | Co-occurance with Schizophrenia keywords: schizophrenia,schizophrenias | Click to show details |
| Network | Shortest path distance of core genes in the Human protein-protein interaction network | Contribution to shortest path in PPI network: 0.0156 | |
Section I. Genetics and epigenetics annotation
eQTL annotation
| SNP ID | Chromosome | Position | eGene | Gene Entrez ID | pvalue | qvalue | TSS distance | eQTL type |
| --- | --- | --- | --- | --- | --- | --- | --- | --- |
| rs11164597 | chr1 | 103238443 | TRIB3 | 57761 | | 0.08 | | trans |
| rs2276020 | chr11 | 67257555 | TRIB3 | 57761 | | 0.08 | | trans |
| rs17202303 | chr16 | 63131959 | TRIB3 | 57761 | | 0.15 | | trans |
Section II. Transcriptome annotation
General gene expression (GTEx)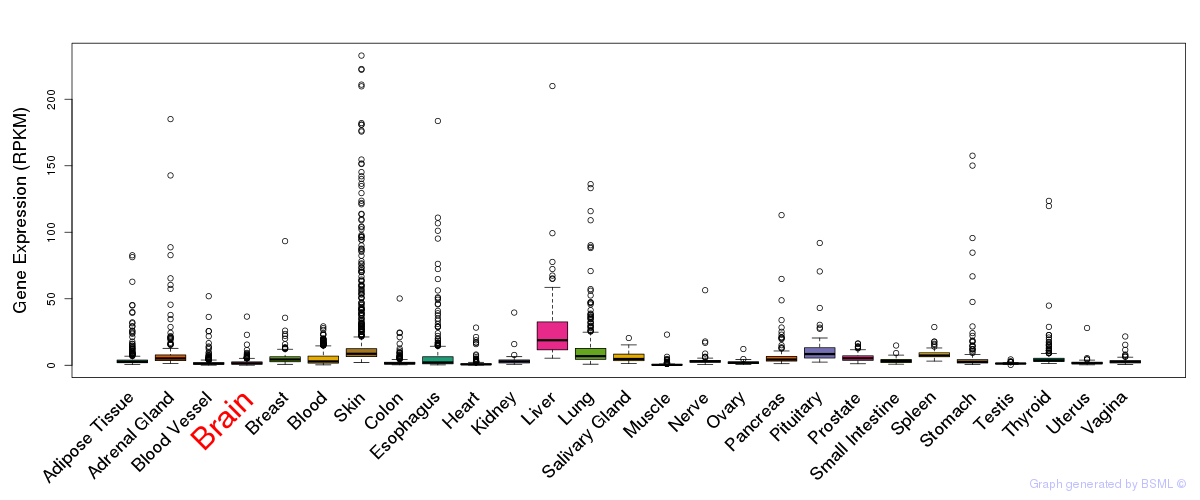 Gene expression during devlopment (BrainCloud)
Footnote:
A total of 269 time points ploted, with n=38 fetal samples (x=1:38). Each triangle represents one time point.
Gene expression of temporal and spatial changes (BrainSpan)
Footnote:
SC: sub-cortical regions; SM: sensory-motor regions; FC: frontal cortex; and TP: temporal-parietal cortex
ST1: fetal (13 - 26 postconception weeks), ST2: early infancy to late childhood (4 months to 11 years), and ST3: adolescence to adulthood (13 - 23 years)
The bar shown representes the lower 25% and upper 25% of the expression distribution.
No co-expressed genes in brain regions
Section III. Gene Ontology annotation
Section IV. Protein-protein interaction annotation
Interactors
Aliases B
Official full name B
Experimental
Source
PubMed ID
AKT1
AKT | MGC99656 | PKB | PKB-ALPHA | PRKBA | RAC | RAC-ALPHA
v-akt murine thymoma viral oncogene homolog 1
Affinity Capture-Western
Reconstituted Complex
BioGRID
12791994
ATF4
CREB-2 | CREB2 | TAXREB67 | TXREB
activating transcription factor 4 (tax-responsive enhancer element B67)
-
HPRD,BioGRID
12743605
ATF4
CREB-2 | CREB2 | TAXREB67 | TXREB
activating transcription factor 4 (tax-responsive enhancer element B67)
SKIP3 interacts with ATF4.
BIND
12743605
C7orf64
DKFZP564O0523 | DKFZp686D1651 | HSPC304
chromosome 7 open reading frame 64
Two-hybrid
BioGRID
16169070
COPS6
CSN6 | MOV34-34KD
COP9 constitutive photomorphogenic homolog subunit 6 (Arabidopsis)
Two-hybrid
BioGRID
16169070
DDIT3
CEBPZ | CHOP | CHOP10 | GADD153 | MGC4154
DNA-damage-inducible transcript 3
TRIB3 (TRB3) interacts with DDIT3 (CHOP).
BIND
15775988
EEF1G
EF1G | GIG35
eukaryotic translation elongation factor 1 gamma
Two-hybrid
BioGRID
16169070
GDF9
-
growth differentiation factor 9
Two-hybrid
BioGRID
16169070
GIT1
-
G protein-coupled receptor kinase interacting ArfGAP 1
Two-hybrid
BioGRID
16169070
KAT5
ESA1 | HTATIP | HTATIP1 | PLIP | TIP | TIP60 | cPLA2
K(lysine) acetyltransferase 5
Two-hybrid
BioGRID
16169070
RELA
MGC131774 | NFKB3 | p65
v-rel reticuloendotheliosis viral oncogene homolog A (avian)
Affinity Capture-Western
BioGRID
12736262
SETDB1
ESET | KG1T | KIAA0067 | KMT1E
SET domain, bifurcated 1
Two-hybrid
BioGRID
16169070
Section V. Pathway annotation
Section VI. microRNA annotation
miRNA family
Target position
miRNA ID
miRNA seq
UTR start
UTR end
Match method
miR-124/506
94
100
m8
hsa-miR-506
UAAGGCACCCUUCUGAGUAGA
hsa-miR-124brain
UAAGGCACGCGGUGAAUGCC
miR-182
464
470
1A
hsa-miR-182
UUUGGCAAUGGUAGAACUCACA
miR-96
463
470
1A,m8
hsa-miR-96brain
UUUGGCACUAGCACAUUUUUGC
SZ: miRNAs which differentially expressed in brain cortex of schizophrenia patients comparing with control samples using microarray. Click here to see the list of SZ related miRNAs.
Brain: miRNAs which are expressed in brain based on miRNA microarray expression studies. Click here to see the list of brain related miRNAs.